Lion Bulk Handling is a pioneer and expert in maritime and portside material handling. We design and engineer our own key components, adding other proven technologies from leading manufacturers to form our completely integrated systems. With 50 years of design and engineering experience in equipping dry bulk ships, barges, supply vessels, harbour loading and unloading equipment, drilling rigs and floating terminals.
Lion Bulk Handling's business brands Kintec, Carlsen, Ruyter Offshore and Bulk Academy offer a wide range of reliable and sustainable systems and products in the field of material handling. Together with its business brands, Lion Bulk Handling has hundreds of excellent references worldwide. Lion Bulk Handling is part of the Lion Marine Group.
Lion Marine Group is a premium applications solutions group dedicated exclusively to solving our customers' most challenging maritime and portside problems. Lion provides equipment and services for marine, offshore, port & terminal applications. Lion is built on more than 55 years of leadership and value creation for our customers.
Together with our business divisions, Lion Bulk Handling, Lion Technology (Webshop) and Lion Engineering, we offer products and services that help you move forward. Lion creates innovative marine doors, efficient bulk handling systems, parts, products, services and sustainable solutions for a better tomorrow.
At the beginning
The Lion story starts in 1966 when Helmut Willem Carlsen founded the Swedish organisation H.W.Carlsen located in Malmö. Between 1967 and 1970, Mr Carlsen engineered and delivered its first Ship-to-silo Unloader, self-discharging cement carrier and dry bulk storage solutions using fluidization fabric. In 1970, H.W.Carlsen sold several abroad projects, becoming an international success.
Moving Forward
During the 70s and 80s, the bulk handling organization keeps thriving to develop more efficient and effective solutions. The First modern ship-to-silo unloader with a manipulator arm and several unloaders in combination with fluidization fabric systems are delivered and convey thousands of dry bulk materials per year. By the 1980s, Carlsen introduced an offshore solution by combining mud mixing and dry bulk handling systems on board a platform supply vessel. Many systems follow under the Ruyter offshore brand.
One source for all bulk handling
In 1990, FLS-Fuller Bulk Handling bought H.W.Carlsen AB (and Kovako B.V.), the global cement cargo flow and production solutions provider, to strengthen the company's offering. During these years, the brands Kintec Bulk Handling and Bulk Academy were founded in the Netherlands, focusing on the local and European cement industry, selling conveying units and bulk training.
The Flow Engineers
In 2004, H.W.Carlsen was sold to a Swedish investment company. Ruyter Offshore received several offshore drilling rig projects, including Liquid mud and dry bulk handling solutions. Our Bulk Academy won its first feasibility studies from Total, Petronas and Shell.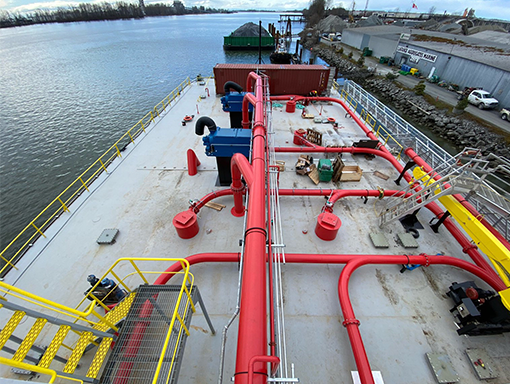 Focus on innovation and reliability
Between 2010 and 2020, the Lion Bulk handling organization is formed by merging the brands H.W.Carlsen, Kintec Bulk Handling, Bulk Academy and Ruyter Offshore. Next, Lion becomes the official service provider for KOVAKO ship Unloaders.